Municipal collaboration and support were fundamental in the fight against wildfires in the South Peace this summer, according to local leaders.
"Emergencies don't have boundaries," Grande Prairie City Mayor Jackie Clayton said in her address at the State of the Region, hosted by the Grande Prairie & District Chamber of Commerce on Oct. 6.
"Collaboration is not only important, it's extremely important to the future success of this region," she said.
The event was hosted by Clayton, County of Grande Prairie Reeve Bob Marshall and Greenview Reeve Tyler Olsen.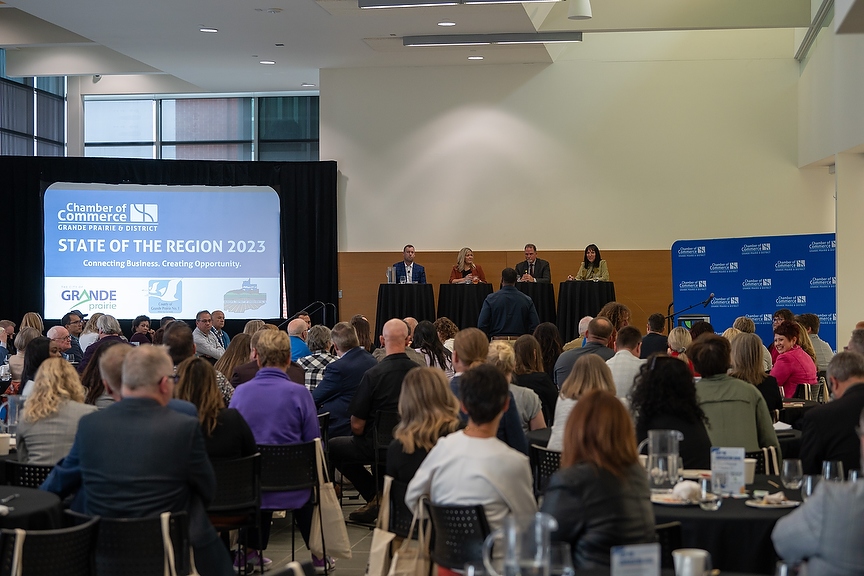 The local leaders spoke on wildfire response, the local economy, and advocacy efforts.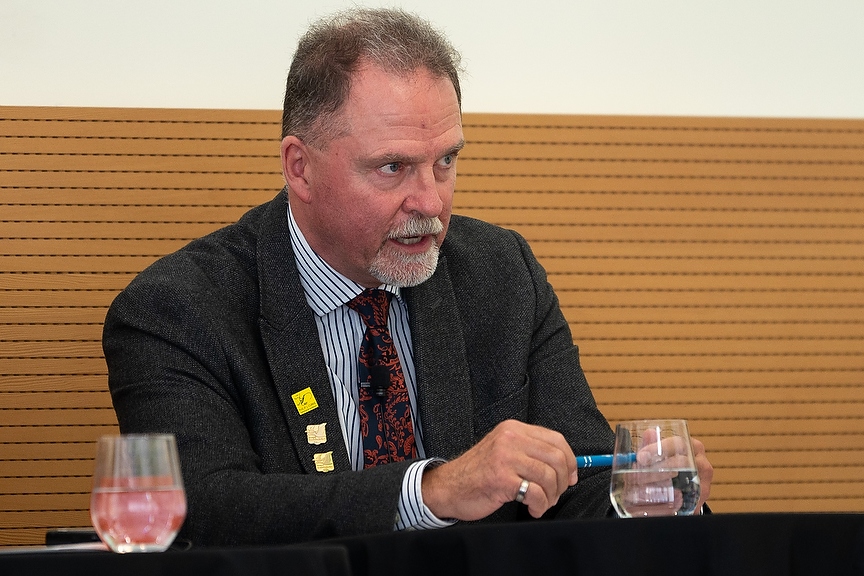 Reeve Marshall recounted May 5, when the Dunes West wildfire spread and led to the evacuation of over 1000 residents.
"We are grateful no lives were lost; unfortunately, we did lose four homes and a number of other buildings," said Marshall.
He noted the successful use of the Grande Prairie Regional Emergency Partnership (GPREP) working with the surrounding towns of Beaverlodge, Sexsmith and Wembley.
He said a lot of work was done to ensure residents could return to their homes while also implementing a permitting system to allow them back to their homes when safe to do so, implementing a livestock emergency plan, and providing daily updates.
"As with any emergency, there are challenges and lessons to be learned.
"We're always recruiting volunteer firefighters, so if you want to give back, answer the call and become a firefighter."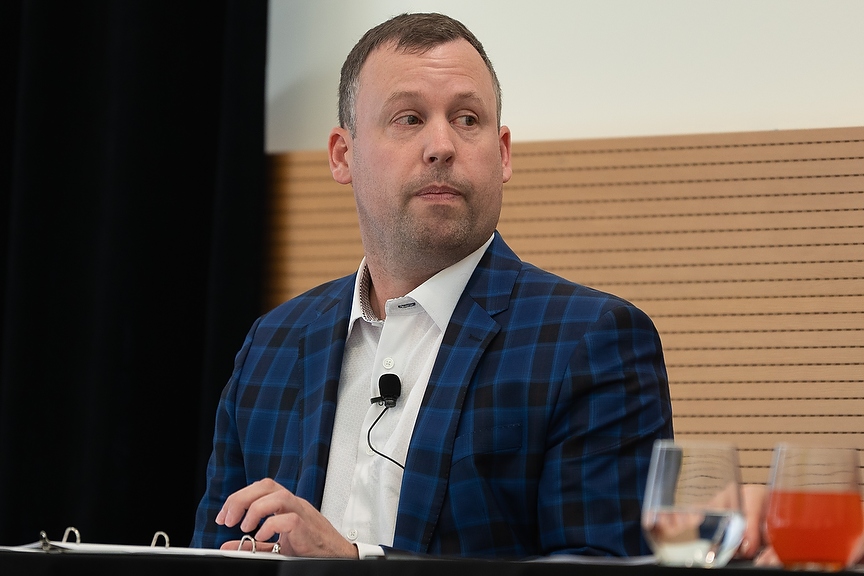 Reeve Olsen said fire in Greenview this year caused the evacuation of 600 people and destroyed 71 buildings, 36 of which were homes.
"The Greenview CAO personally contacted each resident who lost a home during these wildfires," said Olsen.
City Mayor Clayton said the impacts of the wildfires were felt across the province, and the city was "proud to be a supportive neighbour."
Aside from the Dunes West fire, Clayton noted most recently helping evacuees from NWT wildfires.
Clayton said she plans to speak to the provincial government about additional support for municipalities supporting other communities during an emergency.
"We can't get through these emergencies without being collaborative, but I can tell you in our organization with senior leaders, doing four hours of their job and eight hours of emergencies, it has a heavy toll on everyone's team."
Economy
Marshal said the county is working on business retention and expansion and promoting investment and attraction to the area while working with regional partners.
"In the first six months of this year, more than 1,200 employers posted 7,400 job postings in our region," said Marshall; he added the county expects an additional 3,000 jobs by 2028.
"This year's planning statistics are also showing a healthy growth as of the end of July; just over 1,100 industrial and residential building permits have been issued with a construction value of just over $42 million."
Marshall says growth is happening in all sectors of the county's economy and noted that oil and gas activity remains strong.
"There's also considerable potential for geothermal projects.
"We're actively pursuing grants and other funding opportunities to pilot geothermal energy for heat and power generation."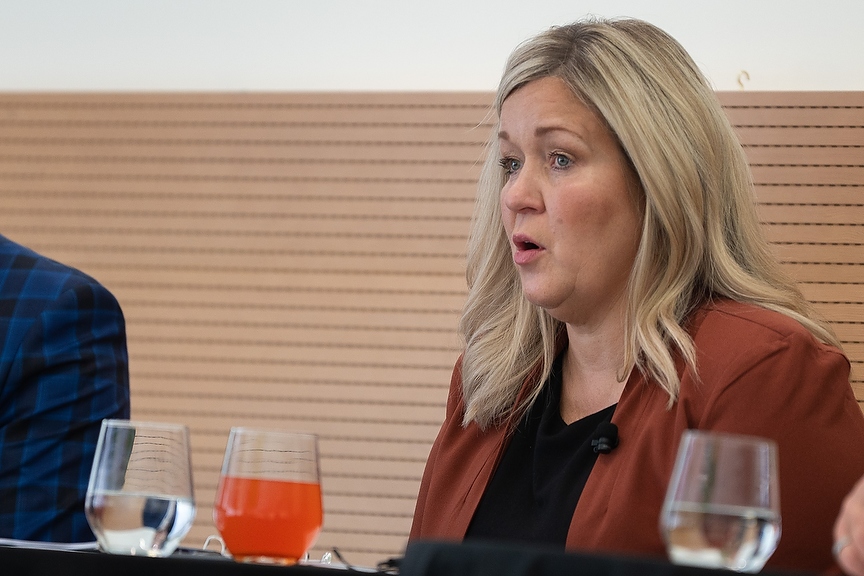 Mayor Clayton said the "economy in the city continues to be steady" and is investment-ready.
She said the Rural Renewal Stream has been successful, with 441 candidates being endorsed by the city, 26 applicants in the queue, and 207 approved employers with 255 jobs available.
Clayton called the program an "overwhelming success".
She said as of the end of August, 400 building permits were issued in 2023, with a total value of $56 million; 919 homes were sold in the city between January and August.
She said childcare spaces in the city are an advocacy priority. According to Clayton, there is currently a shortage of about 300 childcare spaces. The city now has 11 licensed daycares and 55 day-homes.
"We've had some small wins, and we're optimistic that you will see some new (childcare) spaces become available in our city."
Reeve Olsen gave an update on the Greenview Industrial Gateway, noting the road to the site was completed earlier this year, and a partnership with the county to attract biobased projects and development.
"This past year, we also launched a cellular broadband data coverage mapping project to accurately identify cellular service gaps within our borders," said Olsen, noting a third-party company has been hired to find suitable locations for towers to expand coverage.
Advocacy
Marshall said the county is advocating the province on multiple items including the Highway 40X connector, affordable housing, better air and rail services, and health care needs.
He said the county is also advocating for provincial support of the Phillip J. Currie Dinosaur Museum.
Marshall and Clayton both mentioned electricity distribution costs as an advocacy priority.
"High electricity distribution costs hinder competitiveness in attracting economic development," said Clayton. She noted the cost is almost three times higher for distribution in the north than in the southern part of the province.
Health care professional attraction and retention is also an advocacy priority for the city, and it has been working with Alberta Health Services to work with Northwestern Polytechnic to provide specific healthcare programs.
She said that rail service is vital.
"Rail transportation is under threat; it's creating challenges for the economy, it's disproportionately impacting northern communities and threatening Canada's reputation as a supplier and a trading partner at a global level," said Clayton.
Reeve Olsen noted that the advocacy priorities of all three municipalities are nearly 90 per cent identical but said that Greenview is advocating for the development of new coal mines and expansion of existing coal mines in Grande Cache.
He said the projects could mean 200 more jobs and an economic benefit to Grande Cache.
Cindy Park, chamber chair, said "One of the Chamber's strategic project objectives is to continue to work with stakeholders to advocate for innovative and strategic initiatives at the municipal, provincial and federal levels.
"We very much value our relationships with our local municipalities and are the envy of many other chambers across the province for these great partnerships."