Lack of adequate funding from the province for Family and Community Support Services (FCSS) combined with inflation and cost of living increases are leaving vulnerable individuals at risk and increasing financial strain on local municipalities.
Core FCSS programming is meant to be funded by an 80 per cent contribution from the provincial government and 20 per cent from the municipality. The lack of any provincial increases since 2015 has many municipalities, including those in the Grande Prairie region, paying more than 40 per cent.
"In order for community-based organizations to provide services at a level that they're providing right now, based on the issues and concerns through our FCSS funding… (municipalities) have to contribute a lot more than the 20 per cent that is required," said Tammy Wentzell, City of Grande Prairie Community Social Development director.
FCSS programs provide preventive social service programming to residents.
"The focus of FCSS programs is primary and secondary prevention, so no matter what program we're putting in place, we're always hoping that it's to reduce harm," said Wentzell.
A report released in August conducted by the University of Alberta's Alberta Centre for Sustainable Rural Communities prepared for the Rural Municipalities of Alberta (RMA) says "FCSS directors across rural Alberta were unanimous in their concerns that the failure by the Government of Alberta to meaningfully increase funding is tantamount to a funding cut."

Locally, municipality contributions to FCSS were well beyond 20 per cent in 2023: County of Grande Prairie contributed 75, Sexsmith 44, Beaverlodge 44, the city 48, Saddle Hills County 20 and Wembley 14 per cent.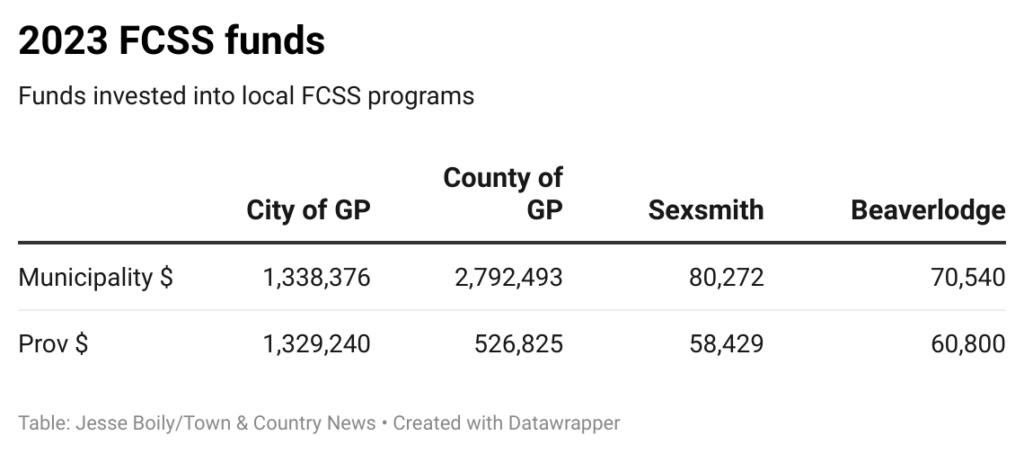 Historically in the last five years, local municipalities that have invested more than 20 per cent into their FCSS continue to do so.
According to RMA's report, 43 per cent of rural communities are contributing more than 35 per cent of their FCSS budget.

The rate that municipalities fund FCSS has varied from year to year, but provincial funding for FCSS has been $100 million since 2015. In April it announced an additional $5 million.
For the city FCSS budget, that increase amounted to $43,000 (a 4.5 per cent increase), said Wentzell.
The city FCSS department funds 19 different programs run by 15 organizations.
Wentzell said the city does an RFP every four years with the groups it funds through FCSS, and a total of $5.9 million was asked for by eligible organizations. Due to budget constraints, only $4 million was distributed.
The result of the shortfall of funding to the organizations is a "scaled-down contract value for 19 deserving programs," she said.
Some $2.7 million requested via RFP didn't qualify due to not aligning with FCSS criteria, although they still play a vital role by serving vulnerable populations, she said.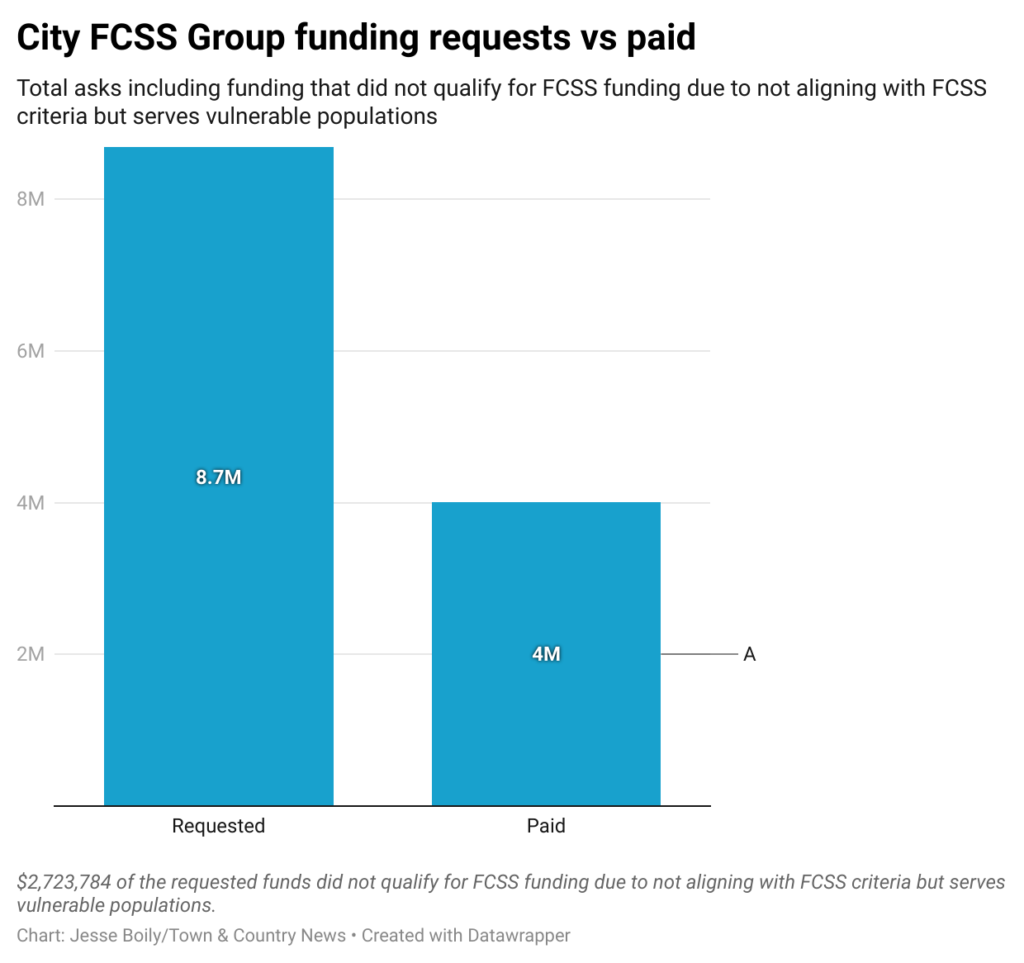 "This highlights the urgent need for enhanced provincial resources to fully support community-based groups serving our most vulnerable citizens," said Wentzell.
"Rural municipalities do not have unlimited budgets and are only able to make up so much of the shortfall created by the province refusing to meaningfully increase FCSS funding," says the RMA report.
The report notes that some rural FCSS programs are becoming more reliant on outside grants, but the ability to secure such grants relies on the time staff have.
"Directors and staff may or may not have the time or skillsets to identify, apply for, and manage external grants — a challenge that is especially acute for the smaller rural FCSS programs in Alberta."
The report also notes that current FCSS funding is based on population and needs to correctly account for communities with high transient communities and the additional difficulties of living in a rural location.
"Population does not give an accurate picture of need in rural communities because of the added costs rural communities experience because of large, sparsely populated area, challenging geography, often poor internet and cell phone service, and transportation costs," says the report.
Family and Community Support Services Association of Alberta president Murtaza Jamaly said "Every dollar invested in preventive services saves us $7 to $12 in future spending on justice, health care and addictions."
"It's hard to measure prevention," Wentzell said.
"Evidence-based research shows any money that's invested into prevention, we definitely are seeing reductions in emergency services."
Need for FCSS programs
The effects of the pandemic and increasing inflation are being felt by local vulnerable populations and that emphasizes the need for FCSS programs.
"It almost doesn't matter which age group, if it's from the youngest to the oldest residents, there's a shared emphasis on the importance of mental health, the need for financial security, the value of education and skill development," said Wentzell.
The pandemic has also created new challenges in social isolation; an issue pre-pandemic was more of a seniors issue but is now impacting youth.
She said two years of social isolation for many youths is something organizations have not had to deal with in the past.
She believes additional funds from the province would result in tackling more of the new broader issues being seen by the support organizations.
"What programs we choose to fund are still up to the community, but if we had more money, we could be potentially taking a deeper dive into some of these issues that we're seeing across all demographics," said Wentzell.
The RMA report identifies three key challenges: Insufficient provincial funding, increasing inaccessibility of provincial social services in rural areas, and changing and increasing needs in rural communities.
The 15 organizations city FCSS funds include GP and Area Council on Aging Meals on Wheels program and seniors outreach, Sunrise House, Rising Above, Resource Centre for Suicide Prevention, Palliative Care Society, PACE, Odyssey House, Northreach Society, John Howard Society, GP Regional Association of Volunteer Organizations, Family Education Society, Cool Aid Society, Centre for Young Parents and Catholic Family Services.
With files from Austin Payeur.